Siding
The Tom Yancey Company has completed many hundreds residential and commercial siding installations in Sacramento City and Sacramento County, El Dorado, Placer and Yolo counties.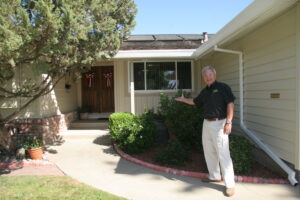 The Tom Yancey Company is able to install siding that adds beauty and function to any building. We have trained craftsmen who are capable of managing and installing a wide variety of sidings. We will walk you through the entire process, and help you choose styles and colors that will compliment your home. Be sure to ask about the options below.
Mastic – Ply Gem Siding. Mastic Home Exteriors by Ply Gem Siding offers, insulated siding, traditional vinyl siding, polymer shakes, replacement windows, shutters, vinyl soffit, aluminum soffit, fascia, gutters and gutter protection.
James Hardie Siding. James Hardie fiber-cement siding is warranted not to rot, warp or delaminate, and guaranteed against hail damage. It can also withstand winds up to 150 MPH. This is in part because it is five times thicker than vinyl siding.
NO matter which siding option you select, The Tom Yancey Company will create a solution that both accentuates your home's beauty, is functional, and will last for many years.
When you hire The Tom Yancey Company your gutter project you can be sure you are in good hands, in part because we hold more licenses than any contractor in Northern California.